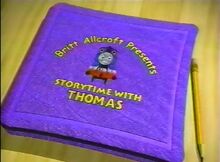 Storytime with Thomas was an American television series that aired Thomas and Friends episodes on Fox Family beginning on 6 September 1999.
Each broadcast consisted of two episodes from the first - fifth seasons with a short music video at the start and one episode of The Magic Adventures of Mumfie in between. The show produced a total of forty episodes before ending in early 2000, when The Britt Allcroft Company changed its name to Gullane Entertainment.
Episodes
Edit
Alec Baldwin
A Surprise for Percy/Scarecrow's Birthday Surprise/Snow
Bye George!/Scarecrow's New Best Friend/Double Teething Troubles
Happy Ever After/All Work and No Play/Busy Going Backwards
Something in the Air/Scarecrowella/Oliver's Find
Cranky Bugs/If The Hat Fits/Horrid Lorry
Thomas, Percy and Old Slow Coach/unknown Mumfie episode/Thomas and the Rumours
James and the Trouble with Trees/The Bird House/Make Someone Happy
Lady Hatt's Birthday Party/Bristle's Holiday/Sir Topham Hatt's Holiday
Stepney Gets Lost/The Perils Of Pearl/Rusty and the Boulder
Toby and the Flood/The Black Cat Disappears/Toby's Discovery
A Better View for Gordon/Captain Jellybean's Treasure/Gordon and the Gremlin
George Carlin
Diesel Does it Again/The Lost Cloud/Escape
Edward, Trevor and the Really Useful Party/unknown Mumfie episode/Henry and the Elephant
Edward, Trevor and the Really Useful Party/unknown Mumfie episode/A Scarf for Percy
Four Little Engines/unknown Mumfie episode/A Bad Day for Sir Handel
Gordon and the Famous Visitor/Case of the Missing Sand/Paint Pots and Queens
Henry's Forest/A Foggy Day/Percy's Promise
Old Iron/Sunrise, Sunset/Wrong Road
Oliver Owns Up/Making A Stand/Gallant Old Engine
Percy and the Signal/It Won't Be All Right on the Night/Donald's Duck
Percy Proves a Point/Mind Over Manners/Percy, James and the Fruitful Day
Thomas and the Special Letter/Days Without Night/Thomas and Stepney
Thomas Comes to Breakfast/Up, Up, And Away!/Bulldog
Thomas Gets Bumped/Abominable Pinky/Thomas, Percy and the Dragon
Mixed Narrators
Sleeping Beauty/unknown Mumfie episode/Duncan Gets Spooked
Snow/Pinky's First Winter/Thomas' Christmas Party
The Days Out with Thomas footage from 10 Years of Thomas was featured in the music videos.
At one point during the series, they added a page turning feature before and after the intermissions.