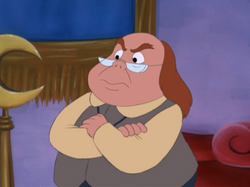 Bristle
Species: Human
Hair color: Auburn
"Rules make the world a happier, safer, tidier place."
-Bristle, explaning to Napoleon Jones why he put up a lot of rule signs in the episode, "Orders are Orders".
Bristle is the Queen of Night's right hand man.
In Mumfie's Quest
Edit
In the movie, Bristle worked for the Secretary after he took over from the Queen. He had a lot of strict rules.
At the end of the movie, he had a change of heart, and only agreed to listen to the rules the Queen of Night made.
In The Magic Adventures of Mumfie TV series
Edit
In the series, Bristle still likes rules, but he also likes cleaning the palace.  The only time he was as strict as he was during The Secretary of Night's rule was in the episode, "Orders are Orders", and this was because The Queen of Night visited her sister The Queen of Light for the day.